Crochet That is supported by our community. When you buy through links on our site, we may earn an affiliate commission.
As an Amazon Associate, Crochet That earns from qualifying purchases.
Christmas is coming and the tree is ready to be trimmed. Making handmade crochet snowflakes is fun, quick and easy. Crochet snowflakes are ideal for decorating Christmas trees, windows, and packages, or for framing and unlike nature's fragile, short-lived crystals, these inexpensive ornaments will be a joy to behold for years to come.
You will need to know the basics of crochet and some simple crochet stitches. Once you're ready to begin you'll need to grab some supplies like yarn, an assortment of crochet hooks, and scissors. If you want to stiffen your snowflake after it's finished, soak it in either a mixture of glue and water or Mod Podge. Then lay it flat and pin it down on a piece of cardboard to dry. This will make your snowflake stiff and it won't bend when it is hung on the tree or in the window.
Crochet Snowflake ornaments are so delicate and intricate at the same time. Most use simple crochet stitches like single crochet, chain stitch and double crochet.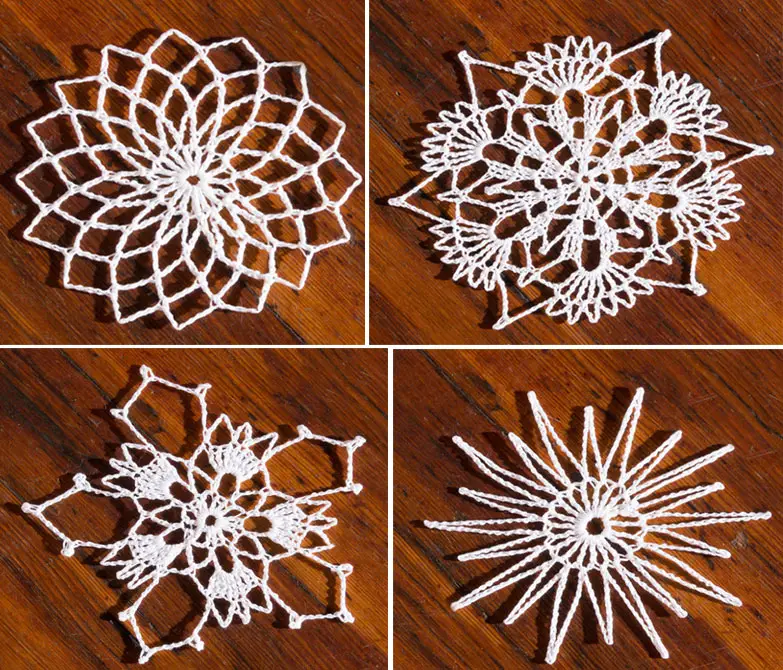 This pretty, delicate snowflake will make a beautiful accent to your Christmas tree or any holiday decor! You will want to crochet snowflakes for your tree, as gift wrap decorations, office decorations.
There are so many places to get free crochet pattern to make dainty snowflakes to decorate your Christmas tree. Red Heart yarns offers a collection of lacy snowflakes to crochet. Use them to decorate the tree, as a garland on the mantel or display them in your windows.
Snowflake Central has a huge collection of over 100 free crochet snowflake patterns. She has special names for each snowflake like Changeling Snowflake, Dusty Snowflake, Elsa' Braids, Enchanted Forest or my favorite, Irish Hearts Snowflake. You're sure to find a favorite among all of these snowflake patterns.
The book, 60 Crocheted Snowflakes by Barbara Christopher will definitely keep your hands busy up until Christmas day. Eye-catching snowflake crochet patterns include star-shaped wheels, exotic flower-like webs, six-side jewels of intricately worked threads, and a kaleidoscope of lacy arms and elaborate fern-like compositions.