Crochet That is supported by our community. When you buy through links on our site, we may earn an affiliate commission.
As an Amazon Associate, Crochet That earns from qualifying purchases.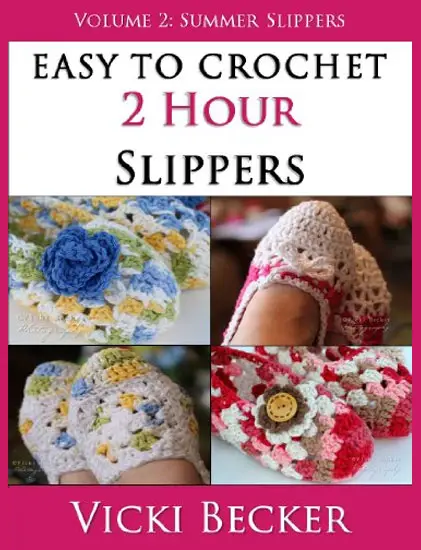 These cute slippers are very quick and easy to make. The designs use cotton yarns for cool comfortable slippers. The pattern instructions are for 4 different styles of ladies slippers in three sizes. Patterns for three different embellishments are also included. Author Vicki Becker has been knitting and crocheting for over 48 years. She learned to crochet from her grandmother in the beautiful Adirondack Mountains of upstate New York where she grew up.
Today Mrs. Becker is an avid needlework enthusiast who loves to share her knowledge and experience through her books. She saw a need for instructional books which were clearly illustrated and easy to understand. Vicki designs patterns for crochet, knitting, hand embroidery, and quilting. All her needlework books have clearly written instructions with photographs. The knitting and crochet pattern instructions are formatted to recognized industry standards established by the Craft Yarn Council of America. She is a member of The Crochet Guild of America.
Author: Vicki Becker
Pages: 26
Format: Kindle, Paperback Buy on Amazon
Book Review:
"This book is jam-packed with helpful hints, step-by-step instructions, detailed patterns and beautiful illustrations of the author's talented handiwork so you can easily create the attractive designs on your own. Included are patterns for four different types of "summer" slippers–ballet flats, granny ballet flats, two-toned ballet flats and granny square slippers in three sizes.