Crochet That is supported by our community. When you buy through links on our site, we may earn an affiliate commission.
As an Amazon Associate, Crochet That earns from qualifying purchases.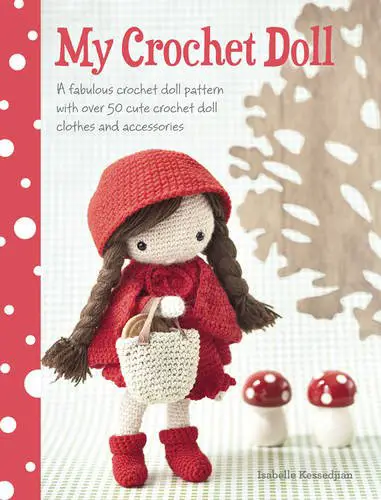 Instagram sensation Isabelle Kessedjian has created this adorable doll with her own very stylish wardrobe in crochet! Using Isabelle's easy patterns discover how to crochet your doll and then personalize her with your choice of hair, clothing and accessories for home and abroad. Each project is presented as a mini story to bring your crochet doll to life with a whole heap of extras to complete each scene, including: At the Beach with a bucket, paddling pool and air bed, Good Night! with bed linen, a pillow and cuddly teddy for sweet dreams! At the North Pole with a camera, penguin and a fish! The cute mini suitcase pattern is perfect for storing all your doll's belongings and doubles up as a bed too! Create the doll of your dreams for a little girl you love or the little girl inside!
Author: Isabelle Kessdjian
Pages: 96
Format: Kindle, Paperback Buy on Amazon
Book Review:
Pros: The patterns are so cute. The little photo vignettes are adorable and made me want to MAKE ALL THE THINGS!!! The different outfits are adorable and there are plenty of opportunities for customizing the doll and the outfits to suit one's fancy. The instructions are easy to follow and totally spot on. I have rarely found a crochet pattern book that was so well edited.
Cons: No gauge chart is given. She tells you the weight of the yarn and the hook size she used, but if you have different yarn, you're on your own figuring out which hook to use to make things fit right. This was a big deal for me, because I already have so much accumulated yarn that I am absolutely not willing to go out and buy special yarn for these projects. The assembly and finishing instructions are very brief and lacking in detail. The pictures show many different styles of hair, but the instructions for attaching hair are so sparse as to be almost useless.