Crochet That is supported by our community. When you buy through links on our site, we may earn an affiliate commission.
As an Amazon Associate, Crochet That earns from qualifying purchases.
This visual encyclopedia of crochet stitches features step-by-step instructions for 300 gorgeous crochet stitch patterns, from basic stitches to cables, lace, textured stitches, mesh and filet crochet, fans and shells, clusters, puffs, bobbles, spike stitches, colorwork, and more. Each pattern is accompanied by a full-color photo and a chart. Every crocheter needs a book like this on her shelf—the content is timeless and will have a place next to the crochet hooks for many years to come.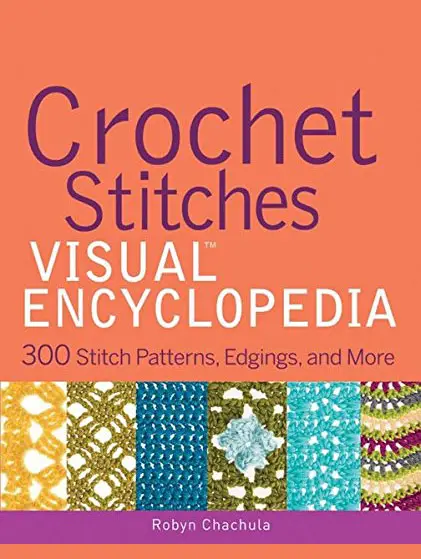 Crochet Stitches VISUAL Encyclopedia gives crocheters quick visual access to a comprehensive collection of stitch combinations that enables them to create their own designs or modify existing patterns with ease. Patterns are represented in both charts and words to suit individual crocheters' preferences. A detailed color photo accompanies each stitch pattern. Hardcover packaging makes the book durable for a lifetime of use. Whether you're a beginner or an advanced crocheter, Crochet Stitches VISUAL Encyclopedia is a book you'll turn to again and again.
Author: Robyn Chachula
Pages: 288
Format: Kindle, Hardcover Buy on Amazon
Book Review:
"As a beginner, I can't say enough great things about this book (but I will say this is not the book for the absolute beginner.) The explanations of the symbols and abbreviations used throughout the book are explained in a glossary, the photos of each pattern are clear and bright and the diagrams are accurate and easy to follow, so much so that I feel like I could attempt some of the advanced patterns, even though I know I can't yet.