Crochet That is supported by our community. When you buy through links on our site, we may earn an affiliate commission.
As an Amazon Associate, Crochet That earns from qualifying purchases.
Baby Yoda fans rejoice! Here are some unbelievably cute, free patterns so you can crochet your very own Baby Yoda Crochet Amigurumi character to love and squeeze tight. Amigurumi requires a small crochet hook and a bit of patience. You may also have to sew the head to the body for some of these, but with a little skill you will have a fun Star Wars project you can show off to your family and friends.
How to Crochet Baby Yoda
All the projects below can be made with the following supplies, so go ahead and try them all! You will need some soft yarns, a variety of crochet hooks, safety eyes, Poly-fil, and a good crochet pattern to follow along to crochet a Baby Yoda. Some of these patterns call for additional supplies. Please refer to each specific project for details.
Baby Yoda Crochet Supplies
You will need the following supplies to make the crochet patterns listed below. See each pattern for the specific hook size.
The Child Plush Doll Crochet Pattern
While this pattern is not completely free, it is so darn cute we had to include it. Created by Corrina of Yarn2tog on YouTube, you will find at least 4 free videos that will show you how to add the safety eyes, how to shape the eyes, nose and ears, how to sew on the ears, and how to add the finishing touches that make this a very special Baby Yoda doll.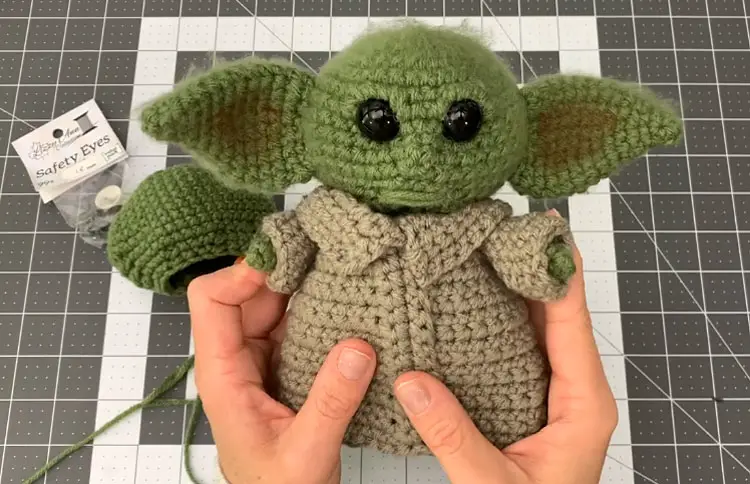 The Child/Baby Yoda Amigurumi Pattern
Here is a free crochet pattern for an Amigurumi Baby Yoda/The Child Doll from The Mandalorian. You will need a light green yarn for the Baby Yoda doll and a tan/cream for the jacket. Poly-fil Is used for the stuffing. This project uses Safety Eyes in size 16mm.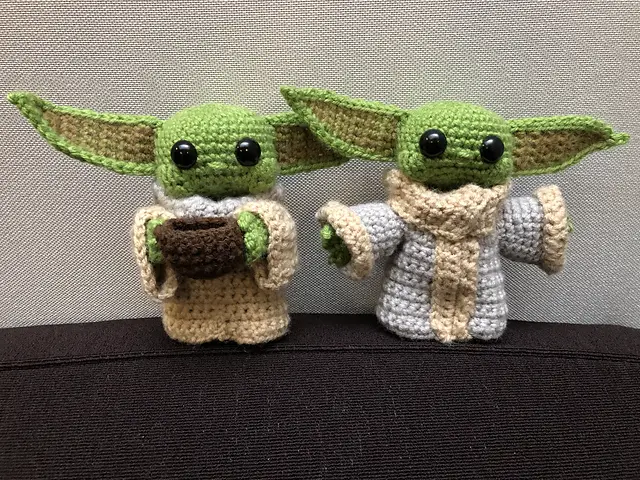 Baby Yoda Free Amigurumi Crochet Pattern
For this adorable project, you will use Crochet hook size 2.5 mm for all of the Baby Yoda parts and 4.0 mm for the robe and sleeves. The head and body will be worked as one piece in a round. Always use a stitch marker to mark the first stitch each round. At the end of Round 23 you will begin stuffing the head and continue to crochet the body. The nose is embroidered and Baby Green yarn is used to make the eyelids.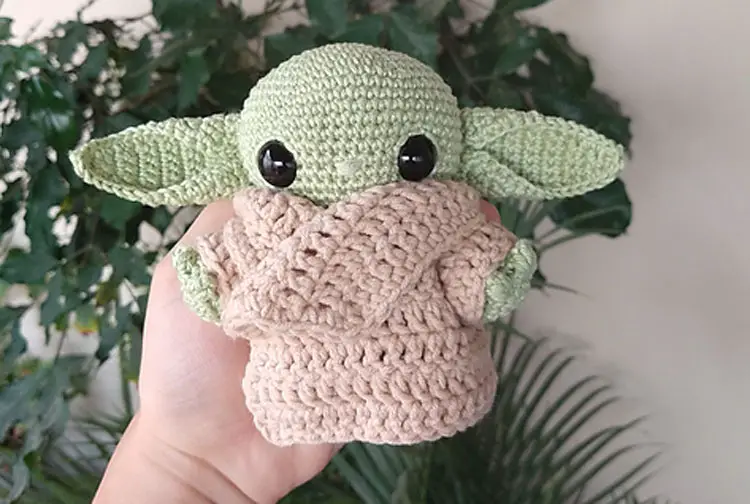 Mini Baby Yoda Amigurumi Crochet Pattern
This tiny Baby Yoda Amigurumi won't take much crochet yarn. It requires a 4 mm crochet hook (G), 10 mm Safety eyes and it was created using Caron "one pound" yarn but Caron Simply Soft yarn will also work up nicely. Since this piece is so small you could stuff it with yarn scraps but Poly-fil will also work. You will start this Baby Yoda crochet project with a magic circle.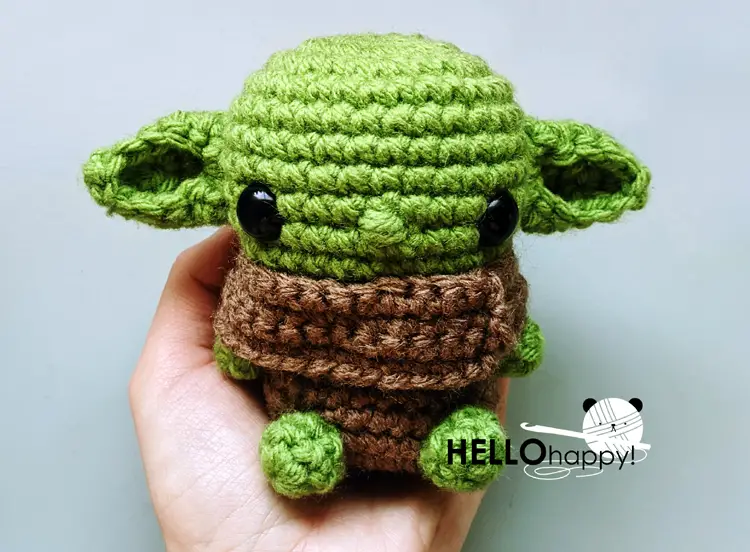 Baby Yoda Amigurumi Crochet Pattern on YouTube
This adorable Baby Yoda Amigurumi crochet pattern is demonstrated on YouTube in Spanish. Knitoys & Crafts live streamed the assembly and you can follow the step-by-step instructions.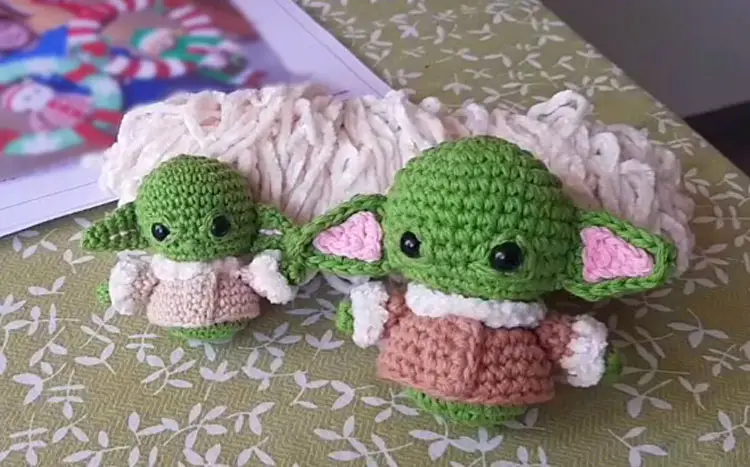 Free Baby Yoda Plushie Crochet Pattern
Very detailed instructions and photos make this an easy pattern to follow. Sarah Maker came up with another unique crochet pattern that offers a lot more detail to Baby Yoda's face using a bobble stitch for the nose, eyebrows, mouth and raised area around the eyes. You'll want to try this pattern if your looking to create a super adorable plushie!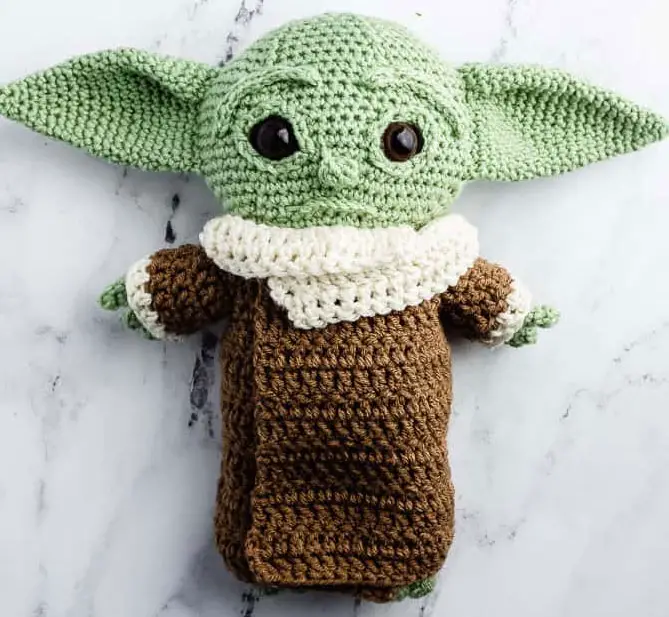 Crochet Abbreviations:
ch: Chain
sl: Slip Stitch
st: Stitch
sc: Single Crochet
hdc: Half Double Crochet
dc: Double Crochet
inc: Single Crochet Increase
dec: Single Crochet Decrease
MR: Magic Ring
BLO: Single Crochet Back Loop Only
Always use a stitch marker to mark the your first stitch each round.